Aloha Sun Surf School is a licensed business and permitted as surf school. We maintain the high level skills surfing techniques to teach you. Because of that skills, you can practice your lessons as you wish around this paradise island. Our team of certified instructors will teach you essential fundamentals and will work with you individually on your surfing technique to ensure that you learn to surf the correct way, without creating "bad habits". No matter your skill level, you will learn the basics of board handling, positioning, paddling, and technique on getting to your feet, surfing etiquette, ocean knowledge, and water safety.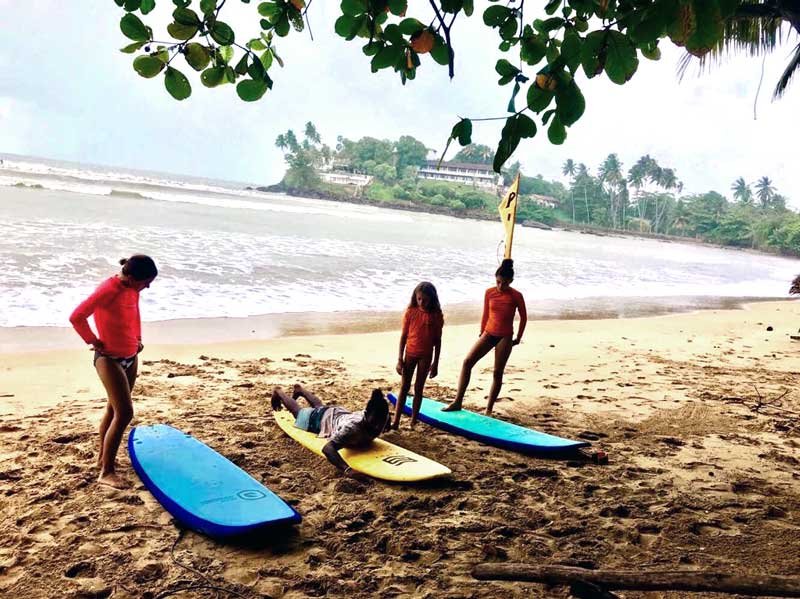 During the weekends Aloha Sun Surf School provides lessons for local kids and teenagers, who are interested to learn first steps of Surf/Longboard or who already do surf and wants to improve technique. Any one needs to train your kids for this marvelous water sport using experts. Aloha Sun Surf School is exactly one and only place to do so. You can see your kids' first steps with their surfboards. And our certified instructors take your lovely kids' full responsibility and safety.
Why not rent your surfboard and wetsuit for your holiday in advance, and have it waiting for you when you arrive. We have comfortable and professional surfing equipments to rent for you. If you have any skills to do this wonderful water sport, we warmly welcome you to rent equipments from us as you wish. We have any size and branded equipments for you. Don´t miss the chance to ride amazing Unawatuna waves, just because you don´t have a surfboard or wet suit. That's the reason why Aloha Sun Surf School exist – regardless of your surfing level, we have the surf equipment you need. we can provide you with high performance surfboards from the best brands and tell you where you can find the best surf spots around Unawatuna.
One Day 35 USD
Three Days 90 USD
Five Days 125 USD
( One hour and a half with theories and practicals each day )
One Day 25 USD
Three Days 60 USD
( One hour and a half with theories and practicals each day )